Looking for a comedy show or open mic in Brooklyn? This is the first post in a series featuring some of the best venues in the city.
Each of these five comedy clubs are in Brooklyn, New York. Whether you're a local or just visiting, be sure to stop by a show or mic for some of the most talented comics working today.
1) The Bell House | 149 7th Street, Gowanus
Closest Subway: 4 Av – 9th St, F/G
Bell House is arguably the biggest comedy venue in Brooklyn. This theater hosts the top tier of comics who come through on their tours. On top of national tours, the venue hosts local shows like The Illuminati Presents, as well as The Moth's storytelling slams, live episodes of major comedy podcasts, and Newcomers, a showcase of new up-and-coming comics in the scene.
2) Union Hall | 702 Union Street, Park Slope
Closest Subway: Union Street, R
Union Hall is a bar/restaurant and live performing arts space in the heart of Park Slope. While the bar features a rustic, absurdist decor featuring giant portraits and two bocce ball courts, the downstairs performance space is home to shows featuring the top alt comedians in the city like DeAnne Smith's DeAnarchy or Picture This with Brandie Posey & Sam Varela.
3) Eastville Comedy Club | 487 Atlantic Ave, Boerum Hill
Closest Subway: Atlantic Ave – Barclay's Center 2/3, 4/5, B/D, N/Q/R/W
Eastville Comedy Club is Brooklyn's oldest comedy club Eastville. It's as close as you can get to a traditional comedy club experience in the borough. For a more mainstream, manhattan comedy vibe you can hit up Stacked run by Kyle Gillis and Omry Han. Laughing Buddha hosts mics and shows here as well.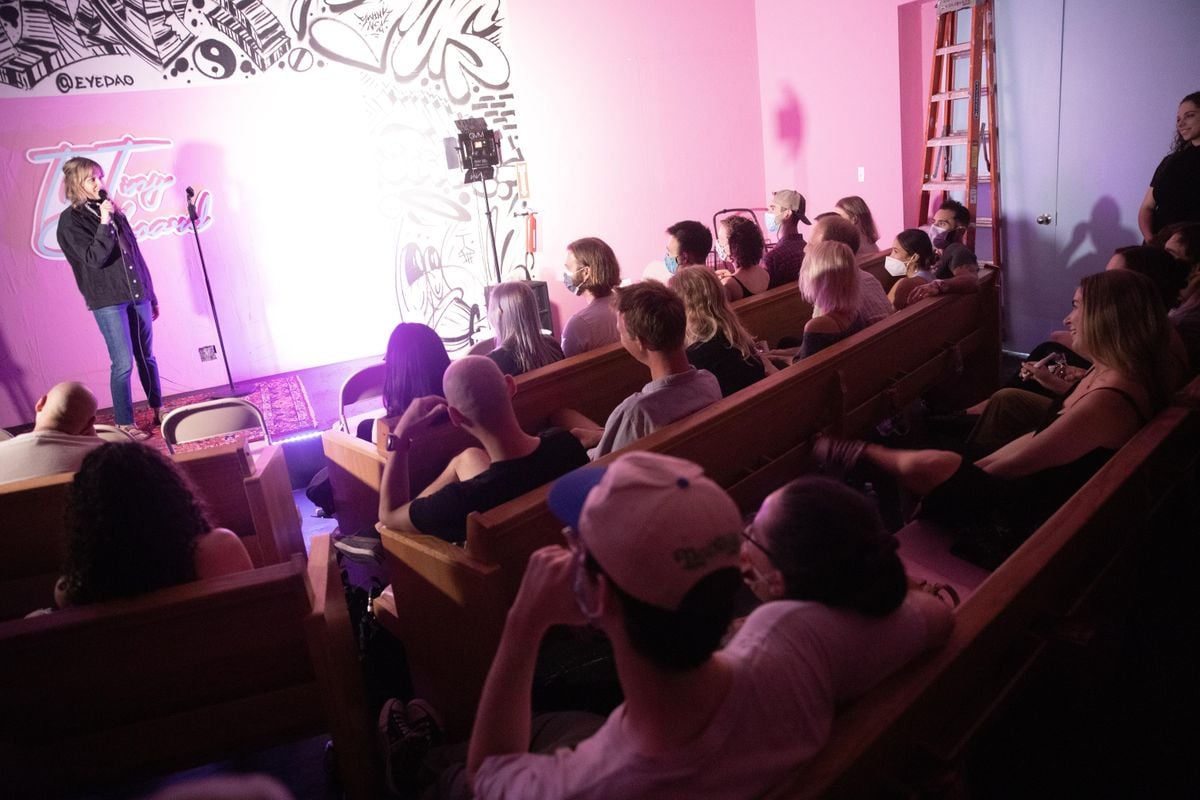 4) The Tiny Cupboard | 10 Cooper Street, Bushwick
Closest Subway: Chauncey J
The Tiny Cupboard is the most Bushwick space you can possibly imagine. This two room venue is marketed as "Bushwick's Indie Speakeasy Comedy Club" divided between the main "Pink Church" (which hosts House Shows and other special events like the DropKick Fundraising show) and the literal "Tiny Cupboard," a 20 person closet for the most intimate comedy experience imaginable. Tickets are always under $5 and at least three mics are hosted here everyday, for $2 a spot.
5) Brooklyn Comedy Collective | 167 Graham Ave, Bushwick
Closest Subway: Montrose L
The Brooklyn Comedy Collective is another dual-space venue that encourages risk-taking from a diversity of voices. Their basement black box theater hosts some of the most out there, but still incredibly well crafted alternative comedy you'll see in the city. The main theater is a large, open warehouse space with a stage built to fit improv teams for the private and corporate classes. You can catch a diverse range of acts like Olivia Scenna's Slides n' Tell powerpoint show and Adam Mitrani's My Roommate Plays the Cello.
Connect with Brooklyn producers and showrunners by signing up for an account with OpenComedy.com